As a kitchen designer and installer, I have heard this comment many times: "I really love my kitchen, but I wish it had a little more impact"!
If you really are ok with the layout of your kitchen, but would like to update it and give it the impact that seems to be missing, then the easiest solution is to replace just the kitchen doors!
When I suggest this, people usually think that it can't be as easy as that, but really it is. You can get an instant kitchen transformation by just replacing the old cabinet doors and drawers.
It's cost effective, and getting more popular each year.
So what's the deal?
One of the major benefits of replacing kitchen doors is the practicality, as well as the financial benefits.
Instead of pulling out the whole kitchen, including the units, just to replace them with almost identical but newer carcasses, this system enables you to keep what are probably perfectly good cabinets, and saving the time, mess and money in the process.
If your kitchen layout is something that you would really like to change, then this option is probably not for you, but if you like where everything is, then why not just update what you already have.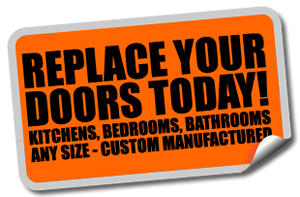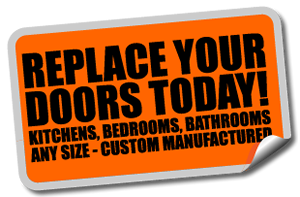 By just changing doors and drawer fronts, you are able to give your kitchen the new look that you are after quickly and easily, with very little upset and mess to what is probably the busiest room in your house.
A full kitchen makeover can sometimes take weeks, involving plasterers, plumbers, tilers, electricians, as well as the kitchen fitters. By taking the replacement door option, your new kitchen can be up and running in as little as one day. Less mess, lower cost, less disruption.
A full re-fit probably has the benefit of adding more value to your home, but if all you need is a quick facelift, then changing doors and drawers is the option for you. You can also opt for changing worktops and appliances, which of course adds to the cost and time factor, but you will achieve a bigger transformation by going this route.
It is surprising how different your kitchen can look with just new doors and drawers, from Shaker style to ultra modern in less than 1 day. And the cost is sometimes 75% less than changing the whole room.
Kitchen fashion changes almost as quickly as clothing fashion, and by changing just the doors you can stay ahead of the curve. Your used doors are a saleable item too, which can help to offset the cost. Just look at the cabinet doors on ebay and see for yourself.
Changing your drawers and doors is similar in effect to wearing that new dress, the body beneath is just the same, but the new look exterior is eye catching and glamorous.
Give your kitchen a new designer look by just updating the doors. Call Quality Kitchen Doors Nottingham on 0115 736 5994 or check out the website www.qualitykitchendoorsnottingham.co.uk for more information and contact details.