Kitchen Cabinet Doors – An easy makeover?
Kitchen Cabinet Doors to the Rescue?
With the housing market in the doldrums, and home sales becoming much more competitive, homeowners are deciding to remodel or renovate their existing homes in much larger numbers than in previous years. A newly remodeled or redecorated home has an extra edge in the competitive real estate resale marketplace.
Instead of Moving Home…
Some people are also opting for home improvements or extensions instead of moving to a different house, due to the economic situation and housing market difficulties that are currently being faced across the country. One of the most popular rooms to renovate or redecorate is the kitchen. As the kitchen becomes, increasingly, the heart of the home, many homeowners see this as a prime area for improvements that will reap a stronger return when it does come time to sell.
Homeowners are upgrading everything from flooring to appliances to cabinets, but simply updating the hardware on your kitchen cabinet doors can be as cost effective a method as you can find to add style to your home and enhance its market value.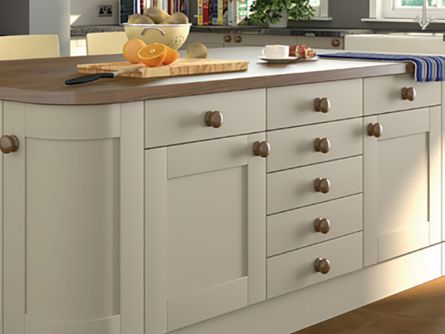 How Can Kitchen Cabinet Doors Help?
One way to redecorate your kitchen without paying for new cabinets, is to modernize the look of your kitchen cabinet doors, just by changing the hardware on the cabinet doors. New cabinets can easily run into the tens of thousands of dollars even for moderate kitchens. Even replacing just the cabinet doors costs thousands, since the cost of the door is usually a high percentage of the cabinet cost. But the doors (including drawer fronts), panels and counter tops are what determines the visual impact and style of your kitchen.
The doors especially, carry the most detail, and showcase special finishes or glazes, making them easily the most significant element of kitchen design. However, new hardware on those doors can transform an outdated kitchen at just a fraction of the price to replace the cabinets.
Can Knobs & Pulls Really Add Style?
Hardware encompasses many things, including knobs, pulls, handles, and hinges. Two major trends in hardware are using these finishes:
oil-rubbed bronze

satin nickel, or brushed satin nickel
Replacing old, gold, or worn-out hardware with one of these finishes is a great way to update a room.
In addition to the finish, the style of the hardware can also make a big difference in the feel of the entire kitchen. You can choose hardware that is more fancy, more simple, more formal, or more casual, and instantly, the kitchen cabinet doors and drawers take on a new life.
Updating the hardware on your kitchen cabinet doors is an easy and inexpensive job, and is sure to bring a fresh new style to your home!