Have you ever wanted to change your kitchen just a little bit without having to do a full renovation? There are several ways to do this but one of the best ways is to change your countertops. There are many ways to do this, some are easy, inexpensive do it yourself projects and others are more expensive professionally installed items.
Let's start with the do-it-yourself projects. Not only can this be a fun thing to do, but the options all depend on your creativity and what look you would like to achieve. There are a few options that you can do right on top of your existing counters. Depending on the material of your existing workspace, you can paint the present tile or even paint over some laminates. Another idea is to tile on the present kitchen countertops. One fun artistic project for counters is to use either wallpaper or fabric and attach it directly to the counter. Then get a piece of glass cut to fit over the paper or fabric and this creates a unique very personalized look. If it is a small kitchen island, it could be fun to put family photos then cover those with the piece of glass as well.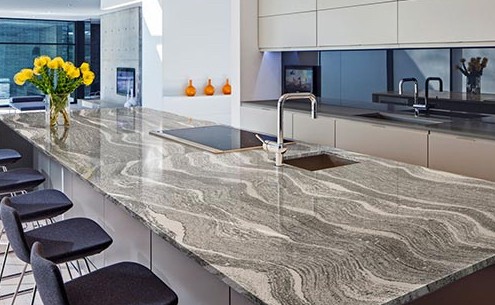 The more popular option is to purchase a specific type of countertop and have it installed professionally. It might help to go to a kitchen store or home improvement store to see the different types of surfaces available in a model kitchen.
This way you can feel the texture of the surface as well as see it paired with various colors of cabinets to get a better idea of what it may look like in your own kitchen. Today there are several different types of products for kitchen countertops. Laminate, ceramic and glass tile, butcher block, concrete, stainless steel, corian, marble and granite for work tops are all things people use for their counters in their kitchens.
Presently, granite seems to be the most popular choice for people changing out their counters. It is highly durable as well as beautiful. Many people enjoy that they can put a hot pan directly on the stone without damaging it like other surfaces. Granite can come in less expensive tiles or the seamless finish of a slab. Once you decide what type of granite would look good in your room, have a professional come to make the measurements. You do not want to mistake the measurement on such a nice piece of stone. Once you have accurate measurements you can order the type of granite from a store or even a internet site that may offer deeper discounts.
Before you start either your do-it-yourself project or a professional job, make sure you find a budget that works for you and includes both the materials and the labor costs. In the end, whether you spend $100 or $10,000 simply transforming your work space will make you feel like you have a brand new kitchen that you can enjoy for years to come.
To know more information about makeover kitchen countertops give us a call 0115 736 5994 or email us [email protected] and also visit our website at http://www.qualitykitchendoorsnottingham.co.uk/.